HR Policies that Inspire Early Childhood Leaders (3 hours)
September 6, 2023 @ 12:00 pm

-

1:00 pm

$75.00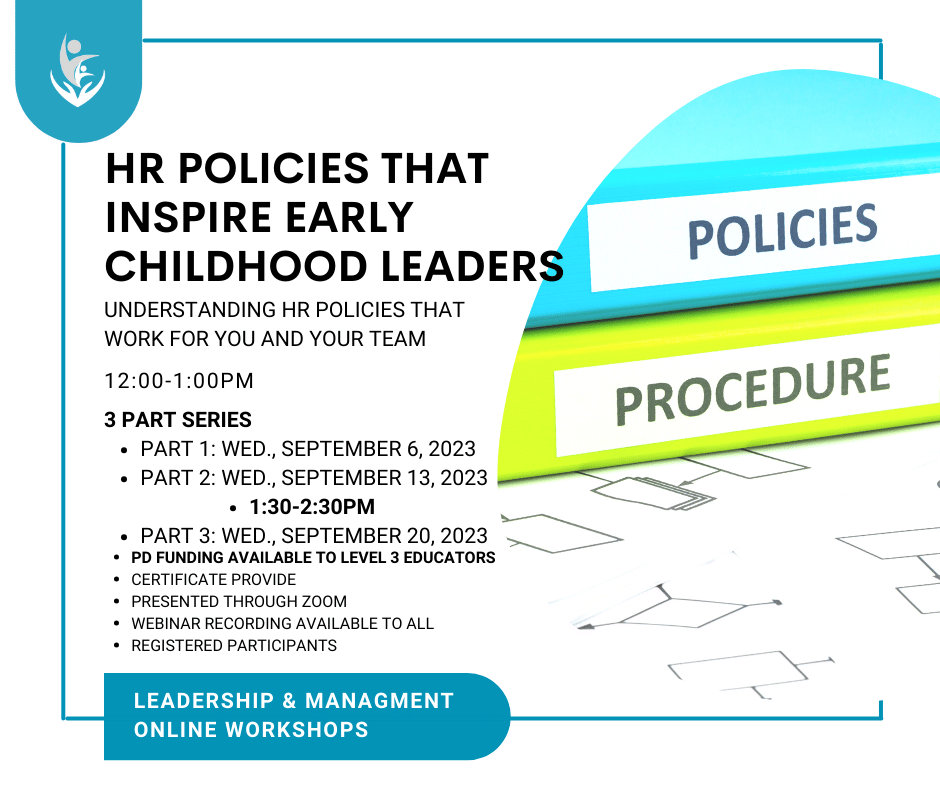 HR Policies that Inspire Early Childhood Leaders (3 hours)
Online Community Leadership Webinar: REVISED DATES!
NEW DATES! 3 Part Series (3 hours total):
September 6, 2023     12:00-1:00PM
NEW TIME! September 13, 2023     1:30-2:30PM
September 20, 2023     12:00-1:00PM
Summary
A comprehensive, up to date, well circulated and well understood HR Manual is a key component to operating a successful childcare program.  This need is particularly acute today as programs struggle to hire, train and retain qualified Educators.  If a program is experiencing high turnover, Educators could lack an understanding of what the HR policies are and where they can be found.  If leaders are unaware of employment standards and/or their own policies, they could unknowingly be mistreating Educators which can lead to burnout, low morale, higher turnover and possibly legal action.  For all of these reasons and more, childcare leaders need to ensure that they have comprehensive HR policies that are organized, updated, and aligned with both childcare regulations and employment standards.
Objectives:
Have participants take inventory of their HR policies and ensure that they are organized into an HR Manual
Ensure that the program's HR policies address and comply with AB childcare regulations and provincial employment standards
Have participants review a best practices list of HR policies for childcare program and determine if additional policies should be added to their manual
Provide participants with sample policies for review, modification and/or inclusion in their HR Manual and a framework for transforming their HR Manual into an online, on-demand training tool that is regularly updated and accessed by all Educators
Things to Keep in Mind:
PD Funding eligible Level 3 educators.
Registration closes 24 hours in advance!
Fee includes all 3 sessions; only 1 registration required for all 3 sessions.
This workshop will be held online through the Zoom platform.
You will need access to a smartphone, laptop, tablet or computer with audio capabilities to join us.
A link will be emailed to you 24 hours prior to the workshop. Please click the link 10 minutes before the workshop begins to join in.
Certificate of participation will be available to registered participants.
All registered participants will have 30 days access to the webinar recording.
E-transfers to be sent to tina@inspiredmindsecc.ca
Zoom link is included in your ticket email. Reminder emails will be sent out 24-48 hours prior to event.