Ready to Inspire Your Team to Success?!
Make professional learning development simple and convenient for your team and select one of our Team Workshops! Team  workshops are provided for childcare programs/centers or day home agencies and are customized to meet your team's needs. Team workshops are designed for up to 20 participants, with additional fees for larger groups and reduced fees for smaller teams of 10 or less team members. Gather your team together for a fun session of learning and inspiration! All of our Team sessions include certificates of participation, reflection handouts and other resources that you and your team will love! We take PLAY seriously at Inspired Minds ECC, so all of our sessions are Play inspired! These are not your run-of-the-mill workshops where your team sits and listens. We encourage active participation in all our sessions to maximize learning and retention. So gather your water bottles and your energy as we collaborate, laugh, and learn together!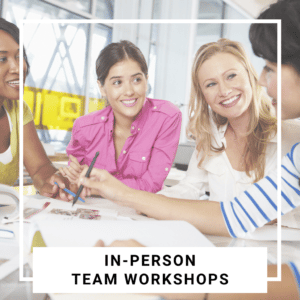 These sessions are designed will ease in mind. Don't go anywhere as we come to you! We bring the visuals, the materials, the paper and pens…and more…when you book an in-person team workshop with us! We engage your team with active learning activities, games and reflective discussions to get your team moving, thinking and having fun. Just let us know a date and time that works for you and we will see you there!
Fees:
2 hour workshop:
$525.00+GST (includes 10-20 participants; each additional participant is $25.00+GST).
Reduced fee for smaller teams under 10 people. 
3 hour workshop:
$600.00+GST (includes 10- 20 participants; each additional participant is $30.00+GST).
Reduced fee for smaller teams under 10 people. 
Travel and mileage fees are added to in-person events for sessions outside the Edmonton and surrounding communities.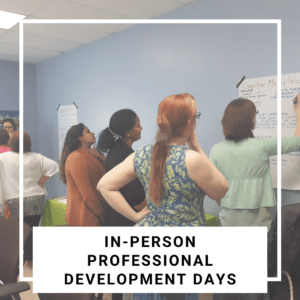 Professional Learning Days
Professional Learning Days (PLDs) can be arranged for a whole day of training and learning for your team!  PLDs can accommodate any group size, small and large. Select 3 of our AMAZING workshops to fill your day.  Training hours for PLDs are between 5-6 hours (lunch not included). Just like our team workshops, we come to you! You and your team choose the topics you want! Our PLDs are great for weekend events or those amazing days that we book off during the week for professional development.  Connect with us to develop a training plan that works for you and your team!
Fees:
$1400.00+GST (includes 10-20 participants; each additional participant is $70.00+GST).
Reduced fee for smaller teams under 10 people. 
Travel and mileage fees are added to in-person events for sessions outside the Edmonton and surrounding communities.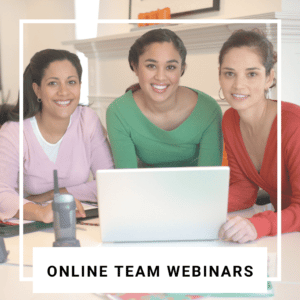 Team Webinars are exclusively for early childhood programs and their team.
Team Webinars include:
LIVE Interactive Online Sessions 
2 hours including time for Q & A Discussion
Flexible dates and times
Registration Required
Certificates of Participation
Handouts & Resource Packages (downloadable)
Access to recorded webinars for program administration
Minimum 6 participants
30 participants (each additional participant is $25.00)
Follow-Up Packages:
Team Webinar package includes (downloadable):

staff goal forms
team meeting discussion topics
follow up strategies & activity extensions
Fees: $400.00 (+GST) Flat Rate Fee
All Webinars are through Zoom.
Links to the webinar recording and the Certificate of Participation are emailed within 48 hours after the LIVE session. 
Workshop & Webinar Topics
At Inspired Minds ECC, we strive to provide your team with the professional development resources, services, support and the knowledge they need to continue their advocacy for young children and high-quality childcare programs.  All our workshops are hands-on, interactive workshops that provide practical strategies that go 'Beyond the Basics' and can be quickly and easily incorporated into your program.  Our workshops include strategies, hands on activities, and reflective discussions. Our workshops are geared towards adults working with children ages 6mo -12 years and are available in OSC focused format as well. Workshops & Webinars are 2-hours. All of our workshops can be extended to 3-hours to provide your team with a more detailed look into strategies, tools and in-depth reflective discussions. Online or in-person delivery available.
Workshops to Inspire Your Learning Journey
Adventures of Play: Exploring Risky Play
Beautiful Oopsies: Exploring the Creativity of Open-Ended Art Experiences
Brain Architecture Game:

The Powerful Role of Positive Relationships with Young Children

Build It Up! Designing Creative Block Spaces
Building Stronger Team Together: Effective Team Communication in Early Child Care Programs (3 hours)
Caring Connections: Interactions that Matter

NEW! Curiosity and Wonder of Treasure Baskets:

Infant and Toddler Play Explorations
Creating Magical Spaces: Inspiring Early Childhood Environments
DAP Trivia Time: Understanding Best Practices in Child Care
Finding Calm in the Chaos: Importance of Self Care for Early Childhood Educators
Inspiring Curiosity to Play: Creating Provocations to Play
Laughter and Learning with ABCs: Creating Joy through Language and Literacy Play Experiences
Let's Be Friends: Bullying Awareness with SEL
Let's Move! Including Movement & Active Play Everyday
Look at Me Grow! Celebrating Children's Growth and Learning Through Children's Journals, Stories and Portfolios

NEW! Managing Stress:

Finding Balance at Work and in Life
Mighty Transitions: Discovering Transitions that Work
No Waiting! Get Them Shaking: Learning Effective Transition Strategies
Ooey Gooey Messy Fun! Designing Sensational Sensory Experiences

NEW! Redefining Circle Time:

Moving Beyond Adult Directed Group Times with Young Children
Rocks and Sticks and Wonderful Things! Creative Outdoor Play Experiences for Young Children
Shake, Rattle and Roll! Creative Music and Movement Experiences for Young Children

NEW! Storytime Success:

Creating Memories Through Storytelling

The Inner Child! Developing the Spiritual Well-Being of Every Child
The Magic of Loose Parts: Promoting Play with Loose Parts
The ME, The You, The We: Facilitating Social Emotional Learning
The World is a Stage! Inspiring Creativity through Dramatic Play
Tinkering and Toying with STEM: Exploration and Discovery Through STEM, STEAM & STREAM
We All Belong: Inclusive Practices in the Early Years
We Are Family! Building Stronger Connections with Families
What a Wonderful World: Creating Culturally Diverse Environments in Child Care
Where the Wild Things Are: Providing Active Supervision
Which Way to the Brain? Brain Smart Strategies to Support Early Learning and Development
… More Topics Available! Contact Tina for more information.
Understanding & Guiding Children's Behaviours Workshops
From Crying to Smiling: Understanding Children's Behaviours
The Daily Struggle: Facilitating Conflict Resolution
Know No No's: An Introduction to Understanding Positive Guidance (3 hours)
Know No No's: Understanding Positive Guidance Strategies (6 hours) 
Emergent & Play-Based Curriculum Workshops
Unlocking the Magic of Emergent Curriculum: An Introduction to the Emergent Curriculum Approach (Also available in the extended version; 6 hours)
Observing Play with Intention: Enriching your Emergent Curriculum Approach
Playful Planning: Enriching your Emergent Curriculum Approach
Reflections of Playful Learning: Enriching your Emergent Curriculum Approach
Leadership & Management Workshops
Each Leadership & Management Workshop is 3 hours, done in 3 sessions (1 hour each session). These workshops are approved for Alberta PD Funding for Level 3. Please contact Alberta Pd Funding for exemptions. 
Leadership Through Connection: Practical Leadership and Coaching Strategies for Early Childhood Leaders 
Leading Your Team to Success: Collective Leadership for Early Childhood Leaders
Mentoring and Coaching Your Team to Success: Effective Coaching and Mentoring Practices for Early Childhood Leaders
Bringing the Village Together: Team Building Practices for Early Childhood Organizations (2 hours)
Leading with Advocacy: Professionalism and Ethics for Early Childhood Leaders
Building Positive Relationships with Families: Leadership Strategies to Enhance your Relationships with Families
Attracting & Retaining an All-Star Team: Proven Strategies that Work
HR Success for Child Care: Building Leading Edge HR Manuals for your Childcare Program
Managing Conflict with Your Team: Conflict Management Strategies for Leaders
Workshop & Webinar Topics COMING SOON IN 2023!
Protectors of Play: Exploring the Passion of Play 
Approaches to Play:

Exploring Play Schemas

Active Listening: Surviving Difficult Conversations with Positive Outcomes
NEW LEADERSHIP SESSIONS COMING SOON IN FALL 2023!
Team Workshop & Coaching Packages Available!
Maximize your transfer of training with our follow-up on-site coaching packages. 
General Coaching Package
Includes 10 hours of  coaching
Investment: $750.00 (+workshop fee).
Premium Coaching Package
Includes 20 hours of  coaching
Investment: $1400.00 (+workshop fee).