Learning to Lead Series: Conflict Management Strategies for Leaders
November 21, 2023 @ 1:00 pm

-

2:00 pm

$75.00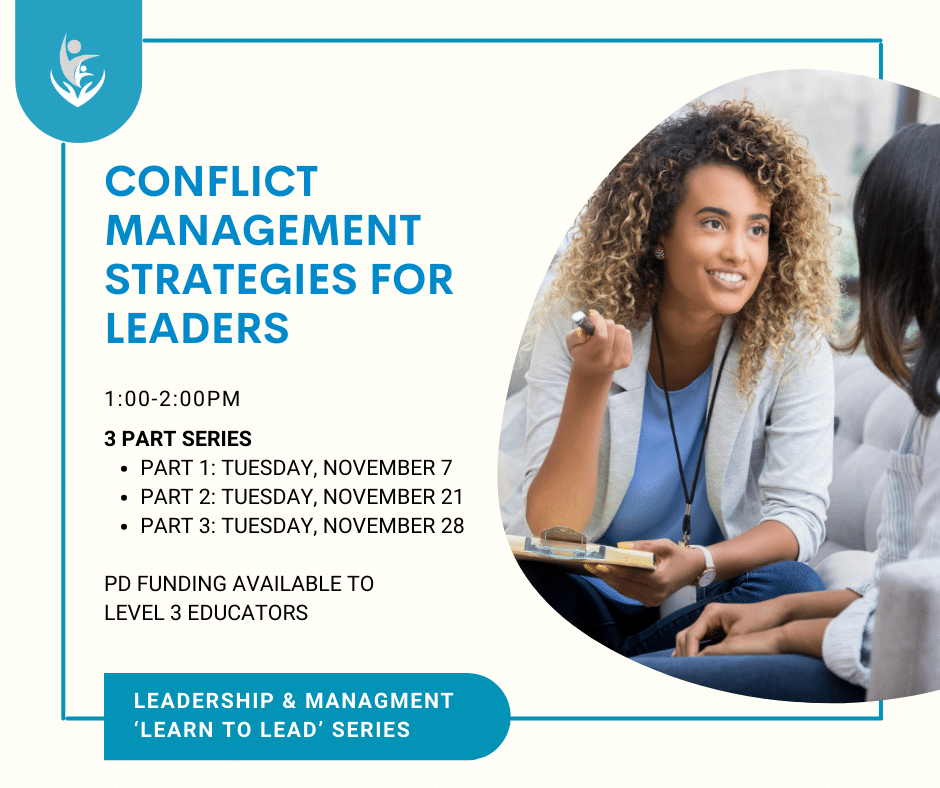 Learning to Lead Series: Conflict Management Strategies for Leaders
Welcome to our LEARNING TO LEAD webinar series for early childhood directors, assistant directors, supervisors, owners and aspiring leaders in our profession! This is a series for you! Our Learning to Lead sessions are all about supporting you on your journey as an inspiration leader, wherever you are in your journey.
Managing conflict well is a key skill for all staff in the early learning field and especially leaders.  According to the Society for Human Resource Management: "Workplace conflict is inevitable when employees of various backgrounds and different work styles are brought together for a shared business purpose.  Conflict can—and should—be managed and resolved."
There are several negative effects of unresolved conflict in the childcare field.  These effects include low morale, absenteeism, turnover, decreased productivity and strained relationships between staff members and with the leadership team.  In addition, conflict is sensed by the children and we know that this negativity affects their growth, development, enjoyment and safety while at the Centre.  Conflict between the staff and families is stressful and can lead to turnover of both staff and families.  Finally, the leaders at the Centres who are required to navigate through the conflict can be left with feelings of guilt, anger and anxiety long after the conflict is gone.  Thus, it's very important for leaders to have tools to ensure that past conflict does not negatively them both on and off the job.
3 Part Webinar Included (only need to register once!):
Part 1: Tuesday, November 7 @ 1:00PM-2:00PM

Part 2: Tuesday, November 21 @ 1:00PM-2:00PM

Part 3: Tuesday, November 28 @ 1:00PM-2:00PM
Objectives:
Understand the 5 point Conflict Management Framework
Learn and practice the CARE Approach to Conflict Management
Learn how to turn complaints into constructive feedback
Learn the importance of self-care in the midst of conflict and long after it's resolved
Things to Keep in Mind:
PD Funding eligible Level 3 educators.
Registration closes 24 hours in advance!
Fee includes all 3 sessions; only 1 registration required for all 3 sessions.
This workshop will be held online through the Zoom platform.
You will need access to a smartphone, laptop, tablet or computer with audio capabilities to join us.
A link will be emailed to you 24 hours prior to the workshop. Please click the link 10 minutes before the workshop begins to join in.
Certificate of participation will be available to registered participants.
All registered participants will have 30 days access to the webinar recording.
E-transfers to be sent to tina@inspiredmindsecc.ca
Zoom link is included in your ticket email. Reminder emails will be sent out 24-48 hours prior to event.