CENTER STAGE WEBINAR! Beyond Access: Meaningful Participation for All Children
June 12, 2023 @ 6:30 pm

-

7:30 pm

Free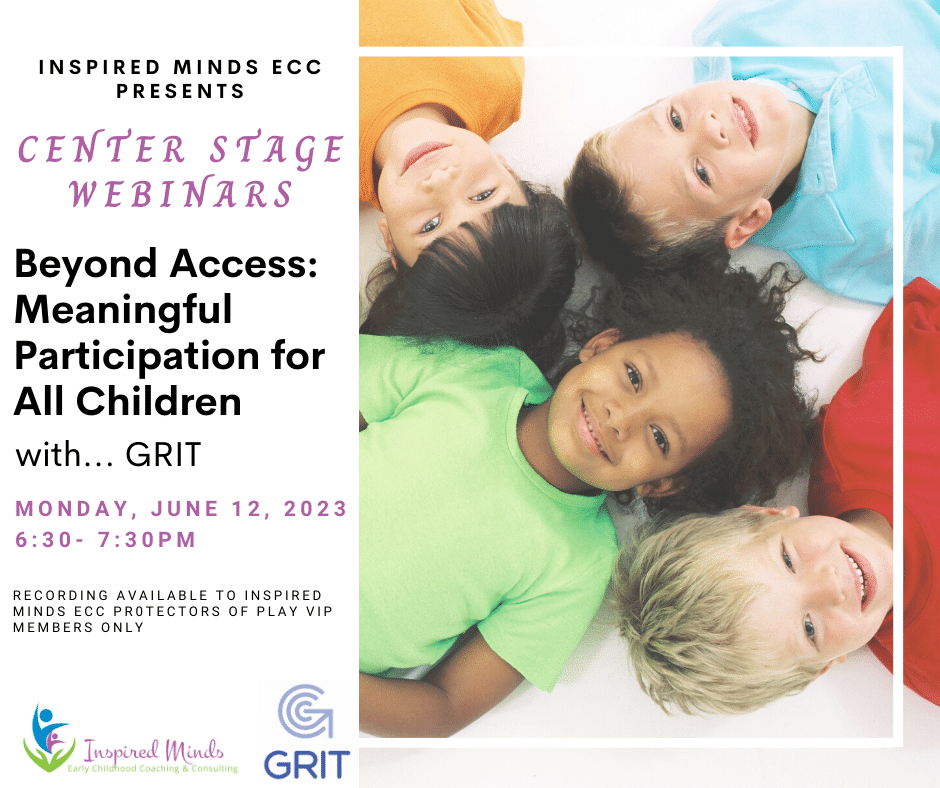 CENTER STAGE WEBINAR! Beyond Access: Meaningful Participation for All Children
This free, 1-hour webinar, looks at some of the foundational practices that support children's participation in early learning environments. Participants will define inclusion; consider aspects of inclusive culture and leadership; and, investigate inclusive practices that they can apply in their early learning setting to support all children.
Guest Speaker: GRIT, Gina Blank
GRIT is a non-profit organization that works alongside families and community partners to strengthen the skills and confidence needed to support every child's learning and development. As a trusted leader, we use research to guide our professional knowledge and practices to give the resources and information needed to achieve the best outcomes for all children. We offer support through our programs, Early Childhood Services,  Specialized Services, ASaP and ICC.
Embedded in our work is the belief that "we all belong". All children have the right to participate in natural settings. When children are included, they are active and valued participants in family life. Play nourishes development and forms a strong foundation for ongoing learning. Through play, children learn to make sense of their world, practice skills, expand their imagination, and develop friendships.
Things to Keep in Mind:
This is a FREE, 1-hour session.
Registration is required.
Registration closes 24 hours in advance!
This workshop will be held online through the Zoom platform.
You will need access to a smartphone, laptop, tablet or computer with audio capabilities to join us.
The link to the webinar is included in your ticket. Also, a link will be emailed to you 24 hours prior to the workshop. Please click the link 10 minutes before the workshop begins to join in.
Recordings of this session will only be available to our Protector of Play VIP Gold and Leader Members!