Learning to Lead Series: Attracting & Retaining an All-Star Team
December 5, 2023 @ 1:00 pm

-

2:00 pm

$75.00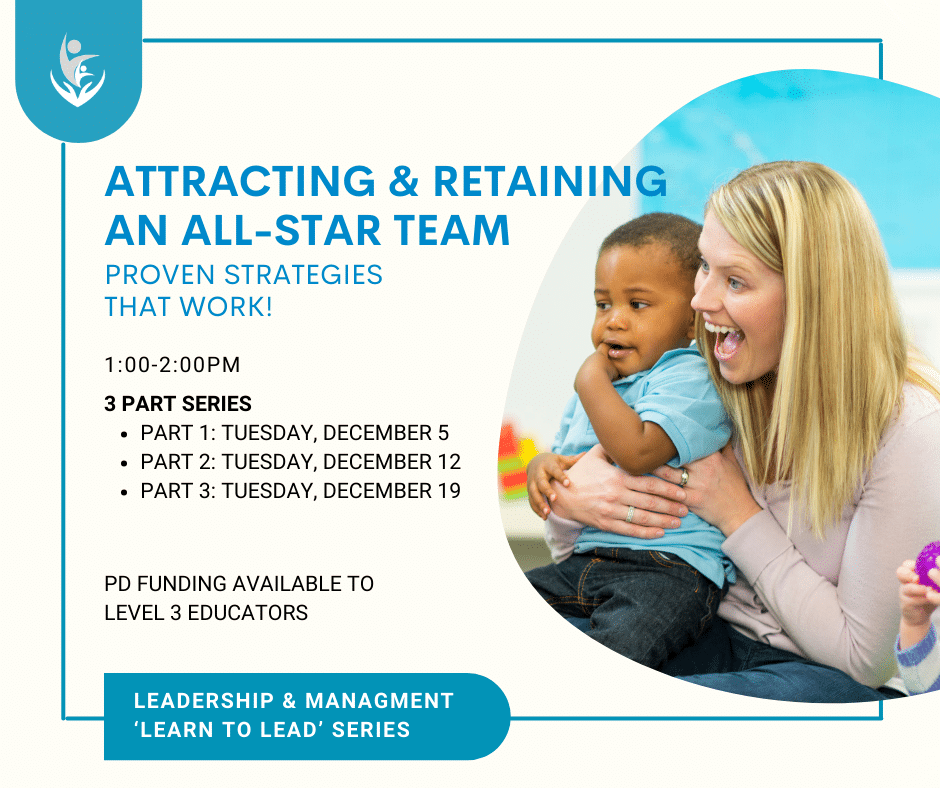 Learning to Lead Series: Attracting & Retaining an All-Star Team –
Proven Strategies that Work!
Welcome to our LEARNING TO LEAD webinar series for early childhood directors, assistant directors, supervisors, owners and aspiring leaders in our profession! This is a series for you! Our Learning to Lead sessions are all about supporting you on your journey as an inspiration leader, wherever you are in your journey.
Attracting and Retaining a high quality team is perhaps the biggest challenge facing childcare leaders, not just in Alberta but across North America.  Recent studies show that it's the inability to hire and retain quality staff that is preventing both private and not for profits centres to expand.
Hiring the right staff takes skill and planning. This includes knowing who you are looking for, where to find them, how to interview them and mutually determining whether your Centre is a fit for their skills and career aspirations.
Retaining the right staff is an equally important part of the Human Resources equation.  This begins with understanding why your current team stay with you and what potential team additions are looking for in terms of a work environment and total compensation package (salary plus benefits).
Having a sound strategy for attracting and retaining staff not only keeps these HR costs manageable but more importantly enables you to deliver consistent, quality care to children and their families.
3 Part Webinar Included (only need to register once!):
Part 1: Tuesday, December 5 @ 1:00PM-2:00PM

Part 2: Tuesday, December 12 @ 1:00PM-2:00PM

Part 3: Tuesday, December 19 @ 1:00PM-2:00PM
Objectives:
Enact a proven HR  framework for attracting and retaining staff that works in the childcare field
Outline the Key Steps in the Hiring Process
Outline the Key Steps in the Retention Process
Things to Keep in Mind:
PD Funding eligible Level 3 educators.
Registration closes 24 hours in advance!
Fee includes all 3 sessions; only 1 registration required for all 3 sessions.
This workshop will be held online through the Zoom platform.
You will need access to a smartphone, laptop, tablet or computer with audio capabilities to join us.
A link will be emailed to you 24 hours prior to the workshop. Please click the link 10 minutes before the workshop begins to join in.
Certificate of participation will be available to registered participants.
All registered participants will have 30 days access to the webinar recording.
E-transfers to be sent to tina@inspiredmindsecc.ca
Zoom link is included in your ticket email. Reminder emails will be sent out 24-48 hours prior to event.